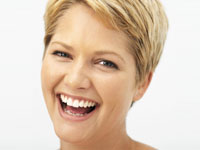 If you've wondered about whitening and whether it would really make a difference in your smile, now is the time to find out. The truth is, white teeth are more than just attractive; they can actually boost your confidence and help you both professionally and socially.
The best part is that getting that whiter, brighter smile is easy and affordable with Rockville Centre teeth whitening dentists Drs. Rechter & Spilberg.
While there are many over-the-counter teeth bleaching products available today that promise to whiten teeth, they can't match the results that we can deliver at Long Island Dental Excellence. Our professional teeth bleaching techniques effectively treat discolored, aging or yellow teeth. You can expect quick, easy, and safe results and a sparkling new smile.
Why wait another moment to get the beautiful smile you deserve? Call our friendly staff at (516) 766-0122 or complete our simple online form to schedule a consultation. We're dedicated to providing you with affordable, top-quality dental care.