Regular Dental Cleanings
It's CRITICAL to Have Regular Dental Cleanings & Exams. We recommend you visit the Dentist at least every 6 months. Why you might ask?
1. Prevent Tooth Decay: Plaque, Tartar and Cavities
Even the best brushers miss areas in the mouth where plaque can quickly build up making it very difficult to remove. This quickly turns into tartar which requires professional help to remove. Regular cleanings help prevent tartar from eroding teeth preventing cavities from forming.
2. Prevent Gum Disease
When plaque and tartar build up, they not only cause tooth decay, but can also cause gum disease. Swelling, bleeding, or soreness in the mouth can also cause the bones that connect the teeth to loosen resulting in issues with potential teeth loss.
3. Oral Cancer Screening
Dr. Rechter and Dr. Spilberg are highly trained to recognize signs and symptoms of Oral Cancer. With regular dental checkups, it can be caught much sooner and be successfully treated.
4. Check Below the Surface with X-Rays
It's critical for the Dentists to take X-Rays of the teeth and to see what's happening beneath the surface of your mouth and be able to give a proper diagnosis and treatment. We offer 3D X-Rays and Scans for better diagnostics and precision for flawless restorations.
5. Save $$$ In the Future
Visiting the dentist regularly can actually save you money in the long run because early detection and treatment can help prevent the need for more involved, expensive treatment. Small problems have small solutions.
Digital Dentistry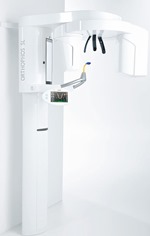 No Time to Take Care of Your Teeth? Now you do! One visit dentistry. YES!!! You can now get crowns and fillings in just a day!
Digital technology has changed what's possible in dentistry. Hi-tech, innovative, cutting edge Digital Dentistry is at the core of Long Island Dental Excellence. CEREC's CAD/CAM technology allows patients to get natural tooth restoration in just a single visit – design and production of crowns and veneers are created and applied on the spot. The results are immediate and the look and feel is natural and comfortable with NO WAIT. 3D X-Rays and Scans allow the Dentist better diagnosis and improved precision for flawless restorations.
Dr. Rechter and his team at Long Island Dental Excellence utilize digital techniques daily with unique time saving solutions that significantly improve precision and efficiency. Patients treated with digital solutions are benefitting from the combination of superior processes, accurate durable and long wearing porcelain materials, and absolutely stunning results.
With Digital Dentistry there are no more messy, uncomfortable and distasteful impressions….no temporaries needed…State-of-the-Art CAD software allows us to design every precise detail of your restoration with keen accuracy. While you wait, exact design specifications are sent to our on-site milling machine to create natural-looking teeth. The future in dentistry is now.
Cosmetic Dentistry
Why Do Everyone's Teeth Look So Perfect on TV? How Can You Get Your Pearly Whites to Look Even Better & Make Your Smile Even More Beautiful? It's Easier Than You Think!
1. Regular Cleanings
Professional cleanings at the Dentist's office helps prevent cavities and gum disease, stop tooth loss, brighten your smile, freshen breath and boost overall oral health.
2. Veneers
Veneers are made of porcelain to individually cover chipped, damaged or badly yellowed or stained teeth to actually transform your smile. Veneers can change the size, shape and color of your teeth for a dramatic improvement. Shhh…. This is a Hollywood secret used by most celebrities!
3. Whitening Treatments
Whitening treatments at the Dentist's office can improve the look of your teeth in just one visit, depending on the severity of your discoloration.
4. Consider Invisalign
The best alternative to metal braces! If your teeth are crooked or in need of an adjustment, choose the best clear aligner system. Invisalign gives you proven results, better fit & comfort, works on a variety of cases, and perfect for teens and adults alike. Ask us if you are a good candidate for Invisalign.
Long Island Dental Excellence can Customize a Treatment Plan for You.
Sedation Dentistry
Sedation Dentistry
Fear of Dental Visits? Having Anxiety? Putting off Making a Dental Appointment? Sedation Dentistry is the Solution.
What is Sedation Dentistry?
For those that have an intense fear of going to the dentist, Long Island Dental Excellence offers Sedation Dentistry. Certified to perform conscious Oral Sedation, patients can peacefully drift through their procedures without any pain, anxiety and very little memory of the procedure. When the procedure is complete, it's as if they never had the procedure at all.
Sedation Dentistry is a Great Option if You Have:
• High dental anxiety or fear
• Severe gag reflex
• Extensive procedures to accomplish in a visit
• Issues getting numb
• A desire to have dentistry done comfortably while fully relaxed!
Don't delay treatments you really need and want because you're too scared to pick up the phone and schedule an appointment. Don't get overwhelmed by the thought of visiting the dentist. Trust Dr. Rechter and his team at Long Island Dental Excellence for the best care. Ask us about Sedation Dentistry.