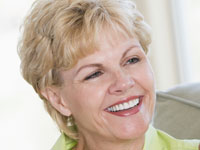 Partial dentures are a great solution for people who need to replace only a few teeth, as opposed to an entire set of teeth. Dr. Rechter treats many patients in the Rockville Centre area who are thrilled with their removable partial dentures, also known as "partials." These are attached to your natural teeth with metal clasps or devices called precision attachments. As with complete dentures, it may take a couple of weeks to get used to your new partials, but that awkward feeling goes away quickly as your mouth adjusts.
When you receive your partial dentures, Dr. Rechter may advise you to wear them all the time. The professional team at Long Island Dental Excellence will give you individual instructions on how long to wear your partial and when to take it out. Your mouth tissues need to rest, so patients are generally advised to remove their partial at least 15 minutes every day. One of the great benefits of replacing missing teeth with a partial is an improvement in your speech. Once you're used to your new partial dentures, you'll speak much more clearly and confidently.
For more information about partials or to make an appointment with Dr. Rechter, call our Rockville Centre office at (516) 766-0122.